A new, innovative activity book from Scott Lang & Robert Sheldon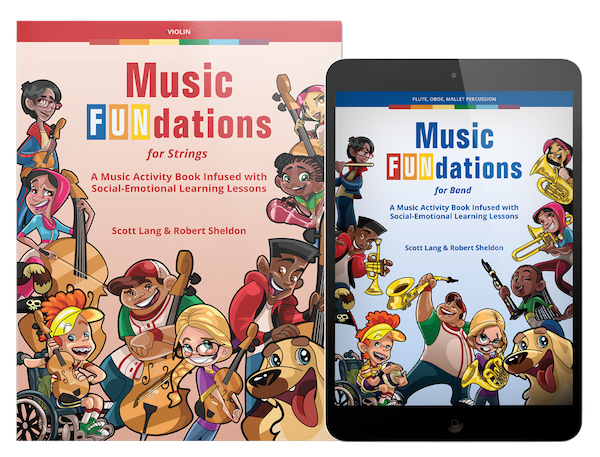 A revolutionary and radically fun approach to music learning
Music FUNdations is a student activity book that reimagines how we teach young musicians. The book is designed with three goals in mind:
Make better musicians
Make better students
Have more fun
When completed, the students will not only have learned a great deal but will have a memory filled journal that they and their parents will treasure forever. Written by two leading authorities with over 70 years in the profession, Robert Sheldon and Scott Lang have created something that has never been seen before.
Music FUNdations for Band Excerpt
Music FUNdations for Strings Excerpt
Learn more about Music FUNdations
(Demonstration video is of the band book — strings book is nearly identical.)
NOW COMES IN TWO VERSIONS!
Complete Deluxe Edition: 108 full-color pages – $19.99
New! Standard Editions
Book A: 48 pages (full-color cover, b/w inside) – $9.99
Book B: 64 pages (full-color cover, b/w inside) – $12.99
Designed to make an impact!
Don't let the cartoons fool you — Music FUNdations is a REAL book, with REAL music, and REAL curricula that is going to make a REAL difference.
Social-Emotional Learning
The book's five chapters are sequentially built to address the five elements of social-emotional learning. The curricula starts with self-awareness and progress through units on self- management, social awareness, relationship skills, and decision making. All SEL elements are woven into the music so teachers can provide real-life skills while developing real musical skills.
Layered Musical Demand
As the book progresses, single line exercises become duets, trios, quartets, and small ensembles. The parts (A, B, C, D) provide for layered instruction with increasing difficulty. Students can be met and challenged at their individual level inside a group setting. Directors can assign parts with skill sets in mind or randomly to keep it fresh and fun.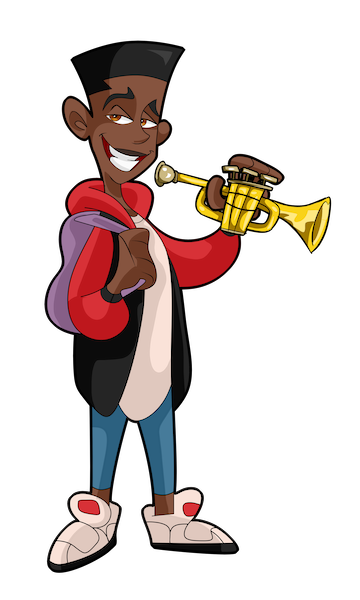 Real Characters, Representing Real Diversity, Solving Real Problems
Our nine characters (Brayden, Mada, Evan, Elisa, Aiko, Miguel, Tanisha, Amir, and Rexi the dog) represent different ethnicities, nationalities and personalities. Each character speaks to their unique challenges (Asperger syndrome, paraplegia, struggles with learning) in a meaningful way that speaks to diversity, empathy, and acceptance.
Musical Opportunities
As a part of this book, students will explore musical styles, improvisation, conducting, arranging, and so much more. Students receive a more complete and holistic look at what music is and how they can do really big things even as a beginning.
Music Advocacy
The book encourages meaningful engagement with parents, on a musical and personal level. Practice records are replaced with conversation starters, performance opportunities, and familial interaction. Parents will see their child growing as a musician and a person right before their very eyes.
Music Literacy
Students are not only taught different ways to rehearse/play and read music, they practice sight- reading, music memorization, and commonly used rhythms and keys. These techniques will not only "funnify" your rehearsals, but more importantly increase the music literacy levels of your students.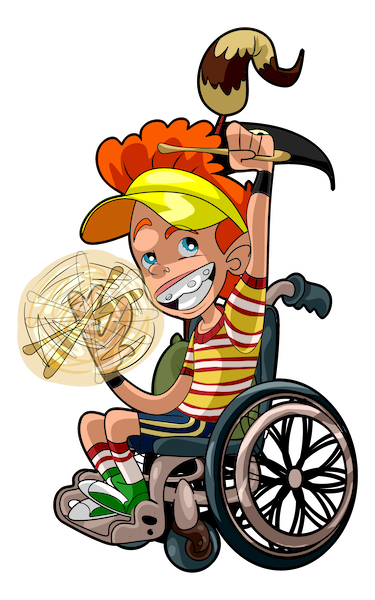 Learning How to Learn
Early in the book, students establish a code of conduct and make decisions as a group about acceptable and unacceptable behavior. We even provide a leadership application and a list of potential jobs. More importantly, we give the students a variety of ways to play and rehearse (pad slapping, buzzing, bopping, clapping, counting, air-banding, etc…) that provide YOU with a variety of teaching tools, and THEM ways to keep band fun and fresh.
Enhanced Performance Opportunities
Four "Band-It Band" pieces are included. These short pieces are memorized by the students and allow them to become a run-out pep band. The pieces are themed around specific times of year and incentivize the students to practice.
In chapters four and five, students can break into chamber ensembles where they make all the musical decisions (part assignments, tempos, dynamics, etc…) as they prepare to host an evening of chamber music.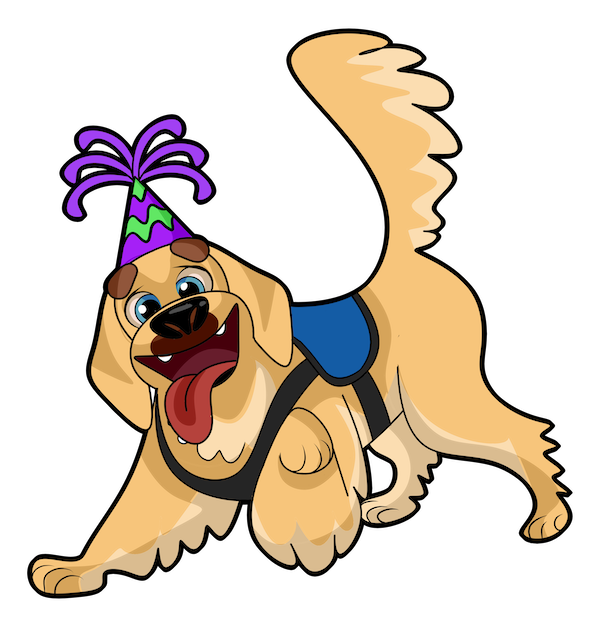 And, a dog…
'Cause everything is better with a dog! Say hello to Rexi.
Scott Lang and Robert Sheldon are two preeminent voices in the field of music education. This book is a practical result of their combined thirty-five years in the classroom and seventy-five years in the profession. This book has been a passion project from the very beginning, but the COVID-19 pandemic created a void that accelerated the process, leading long days and nights of writing, editing, and brainstorming. We have spared no expense and sincerely hope you see the love, care, and concern on each page. If not, did we mention we have a dog?
THIS BOOK IS ONE OF A KIND! Groundbreaking, relevant and fun… Music FUNdations is all of this and more. Not only will your students enjoy making music together, but social and emotional learning is woven seamlessly throughout the book in ways that speak directly to students. Timely and crucial topics such as diversity, acceptance, bullying, leadership, and music advocacy are cleverly fused with the musical selections to make this book truly special.
Wendy Higdon
Nationally Recognized Educator & Blogger
Music FUNdations is a timely and pedagogically sound resource for band directors and students.  The team of Scott Lang and Robert Sheldon have created a rare instrumental music method that incorporates leadership development, diversity and inclusion, and social-emotional awareness.  I highly encourage instrumental music educators to add this tremendous resource by two icons in our profession to their curriculum.
_
Steven Moss
Director of Fine Arts, Duncanville ISD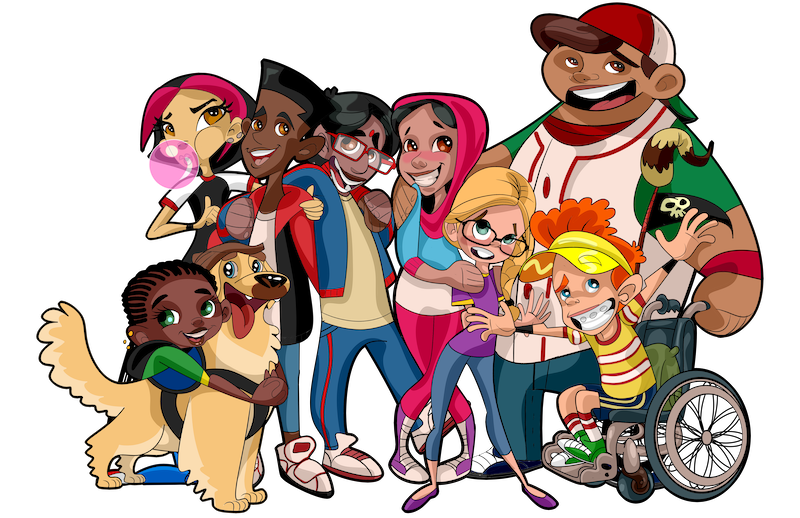 Available in print & eBook format
Copyright © 2023 Scott Lang & Robert Sheldon. All Rights Reserved.